Applications across industries
If your industry uses, modifies, communicates about, or markets real-
world places, Matterport is being used now.

Next-generation immersive media
Matterport Spaces aren't your traditional virtual tours. They're completely new form of immersive 3D media that invites you to explore a place as if you were really there. Step inside a Matterport Space and start exploring somewhere new.

Incredibly easy to create
Do it yourself or have one made for you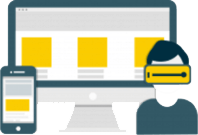 Share and experience anywhere
Ready made for web, mobile, and virtual reality

Powerful tools for businesses
Captivate customers before they even visit